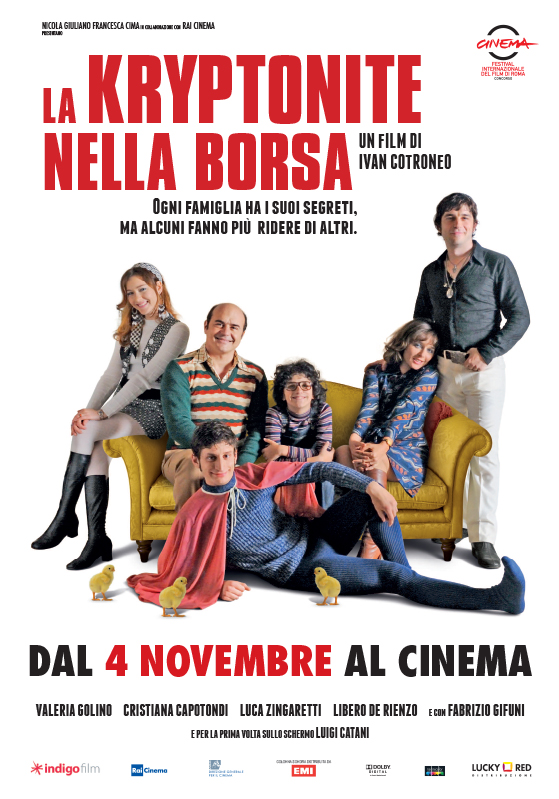 Kriptonite!
by Ivan Cotroneo
Film
Production year

2011

Length

98' min.

Format

35mm
---
Synopsis
Every family has its secrets. But some are funnier than others. Naples. 1973.
Peppino Sansone is 9, comes from a large and fairly chaotic family and has an older cousin, Gennaro, who thinks he is Superman.
Peppino divides his days between the crazy and colourful world of his young aunt and  uncle, Titina and Salvatore, made up of dancing in squares, parties in basements and attending feminist collectives, and his home where his mum has shut herself away in an incomprehensible silence and his father tries to distract him by giving him little chicks to keep as if they were pets.
But when Gennaro dies, Peppino's imagination rewrites reality and brings him back to life, as though his cousin really were the superhero he said he was.
And it is thanks to this imaginary friend, this Neapolitan Superman and his not-so-super powers that Peppino manages to face up to the vicissitudes of his family and start to approach the adult world.
---
---
Crew
Director Ivan Cotroneo
Screenplay Ivan Cotroneo, Ludovica Rampoldi, Monica Rametta
From La kryptonite nella borsa, Edited by Bompiani
Cinematography Luca Bigazzi
Music Pasquale Catalano
Editor Giogio' Franchini
In Collaboration with Donatella Ruggiero
Art Director Lino Fiorito
Costume Designer Rossano Marchi
Sound Recordist Emanuele Cecere
Sound Editor Silvia Moraes
Ass. Director Davide Bertoni
Casting Pino Pellegrino, Costanza Boccardi
Executive Producer Viola Prestieri
Associate Producer Carlotta Calori
Produced by Nicola Giuliano, Francesca Cima
Distribution Lucky Red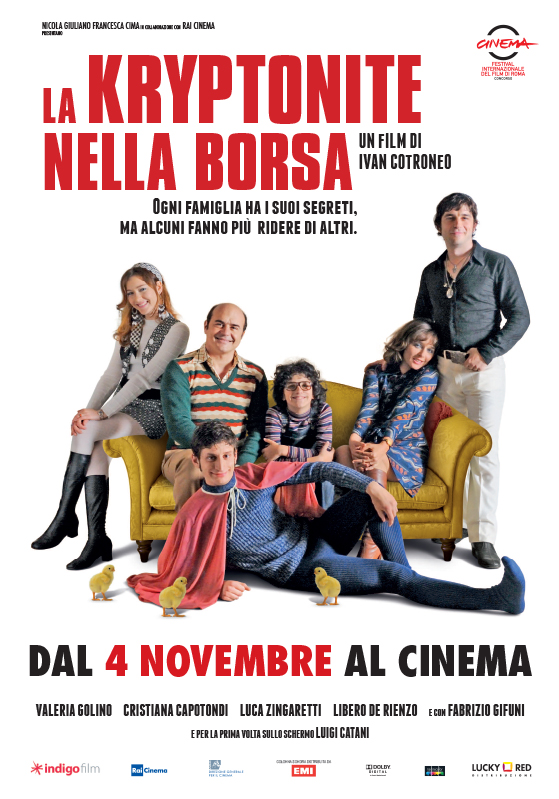 ---
Cast
Valeria Golino
Cristiana Capotondi
Luca Zingaretti
Libero De Rienzo
Luigi Catani
Vincenzo Nemolato
Monica Nappo
Massimiliano Gallo
Lucia Ragni
Gennaro Cuomo
Sergio Solli
Antonia Truppo
Rosaria De Cicco
Carmine Borrino
Nunzia Schiano
e con
Fabrizio Gifuni
---
Awards
Ciak d'Oro Best Actress (Valeria Golino), Best Costume Design (Rossano Marchi)
Univerciné Cinéma Italien Jury Award, Audience Award
Sottodiciotto Film Festival Audience Award
La Mente al Cinema Best Picture
Nice – New Italian Cinema Events Special Award "Susan Batson" (Valeria Golino)
San Marino Film Festival Best Actor (Luca Zingaretti), Best Screenplay (Ivan Cotroneo)
Festival du Film Italien de Villerupt Amilcar Prize Of The Young Jury
Annecy Cinema Italien Grand Prix Fiction, Best Actress (Valeria Golino)
Maremetraggio – Shorts International Film Festival Best Actress (Valeria Golino)
Icff Italian Contemporary Film Festival People's Choice Award (Ivan Cotroneo)
Fullmoon Ponza Festival Best Debut Film (Ivan Cotroneo)
---
Festivals
Festival Internazionale del Film di Roma
Saison Culturelle
Jeff Film Festival
Costa Iblea Film Festival
Il Cinema Italiano – Festival a Como
Festival CinemAnimaMente
Il Cinema Italiano Visto da Milano
Italian Film Festival London - Cinema Made in Italy
Festival International du Cinéma Méditerranéen de Tétouan
BIF&ST – Bari International Film&Tv Festival
St. Louis Italian Film Festival
Indianapolis Italian Film Festival
Festival del Cinema Italiano di Tokyo
Detroit Italian Film Festival
Denver Italian Film Festival
Chicago Italian Film Festival
Kansas City Italian Film Festival
Seattle International Film Festival
N.AUT.IT - Nuovi Autori Italiani
Milwaukee Italian Film Festival
Shanghai International Film Festival
OPEN ROADS: New Italian Cinema
ICFF Italian Contemporary Film Festival
Fresko Film
Cinema Lifestyle
Brussels European Film Festival
Aruba International Film Festival
Accadde Domani. Nuovo Cinema Italiano
Una Notte in Italia - Festival del Cinema di Tavolara
Portofranco SummerNight
Maremetraggio
Ischia Global Film & Music Fest
Giffoni Film Festival
GASF - Giovani Artisti Senza Frontiere
Festival del Cinema Mediterraneo "Verso Sud"
Bimbi Belli
Vasto Film Festival
Mantova Film Fest
Westchester Italian Film Festival
Nuovo Cinema Italiano
Napoli Film Festival
Lavazza Italian Film Festival
Cinema Italiano IIC Chicago
CineItaliano! Italian Film Week in Hong Kong
Youth Movies Series
Teniamoli d'occhio
Sanat Hareketlenyor
Italia y sus Regiones
Festival du Film Italien de Villerupt
Festival delle Generazioni
Cinéma Italien - Sélection de Film de Festival de Cinéma Italien d'Annecy
Cine d'Essai
Annecy Cinema Italien
NICE - New Italian Cinema Events
Rencontres du Cinéma Italien de Grenoble
MittelCinemaFest Bratislava
MittelCinemaFest
Festival de Cinema Italiano no Brasil
Cinema Italian Style
Rencontres du Cinéma Italien à Toulouse
Festival Cinema Mediterraneen a Bruxelles
San Marino Film Festival
Sottodiciotto Film Festival
Italia Film Festival Malta
Giffoni Sao Paulo Film Festival
Univerciné Cinéma Italien
Festival du Cinéma Italien de Bastia
---
Photo Gallery
Indigo
News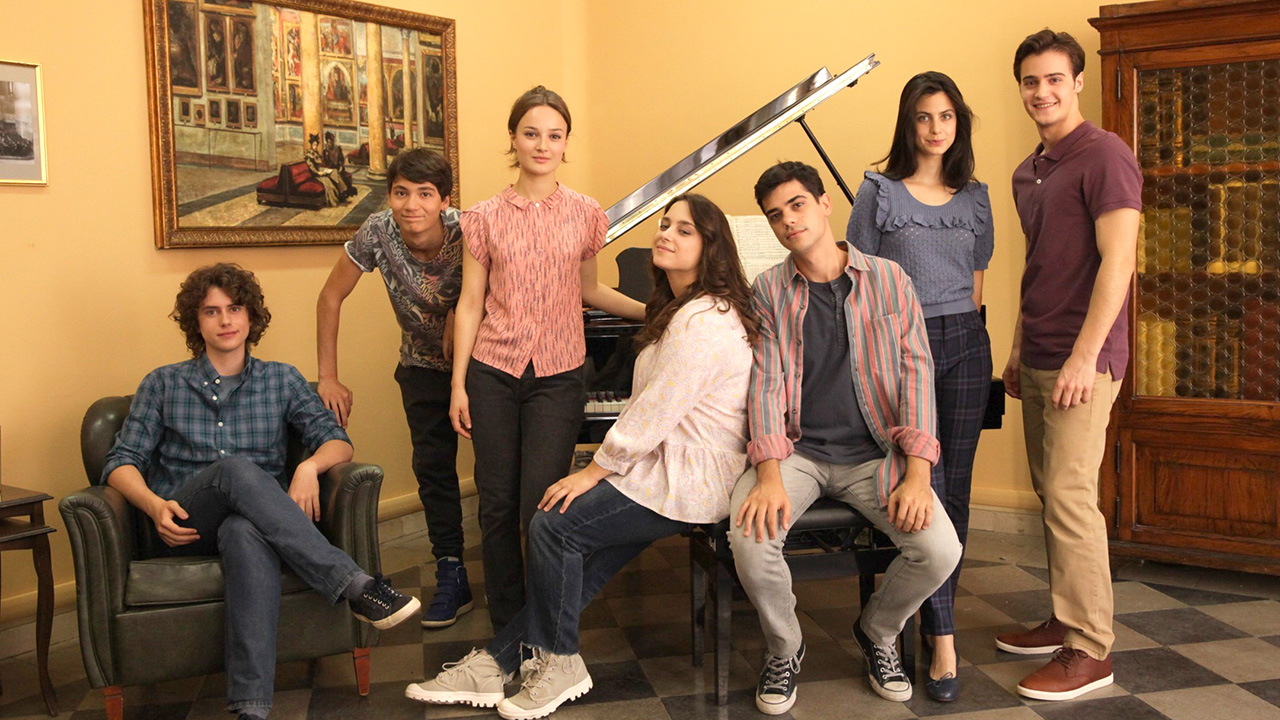 Sono in corso le riprese della seconda stagione della…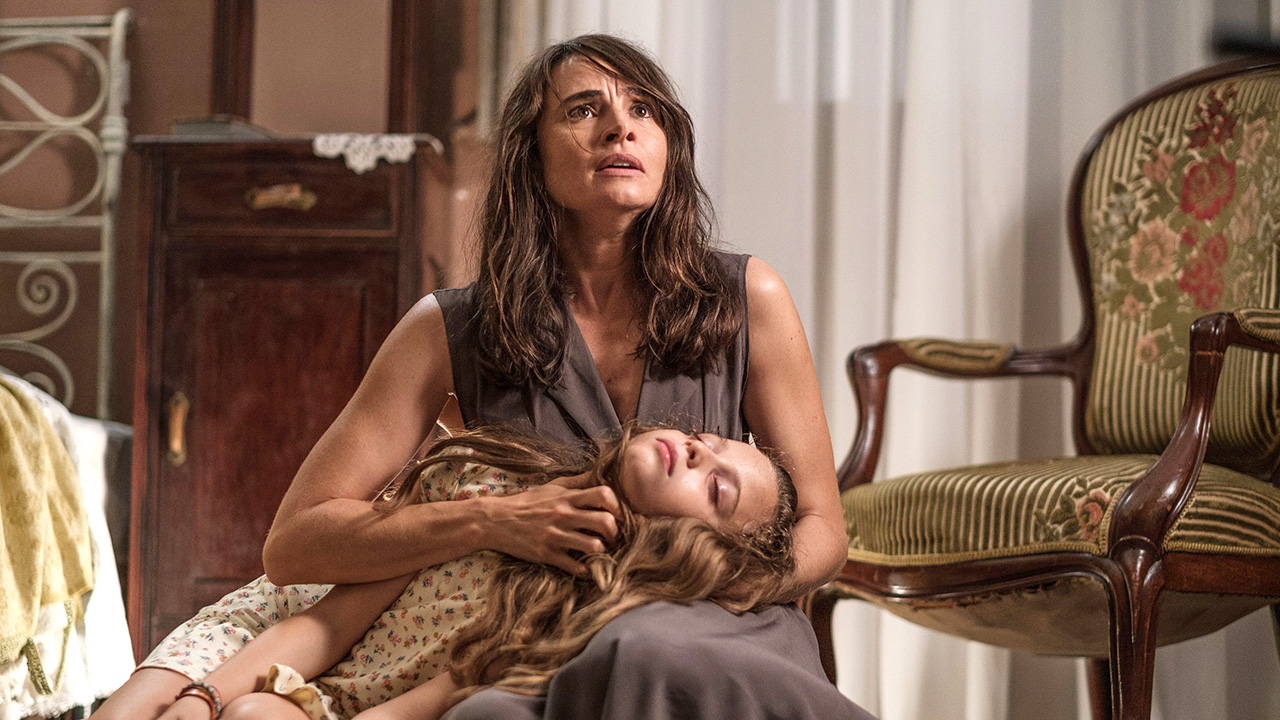 Dal 2 ottobre su Netflix sarà disponibile IL LEGAME,…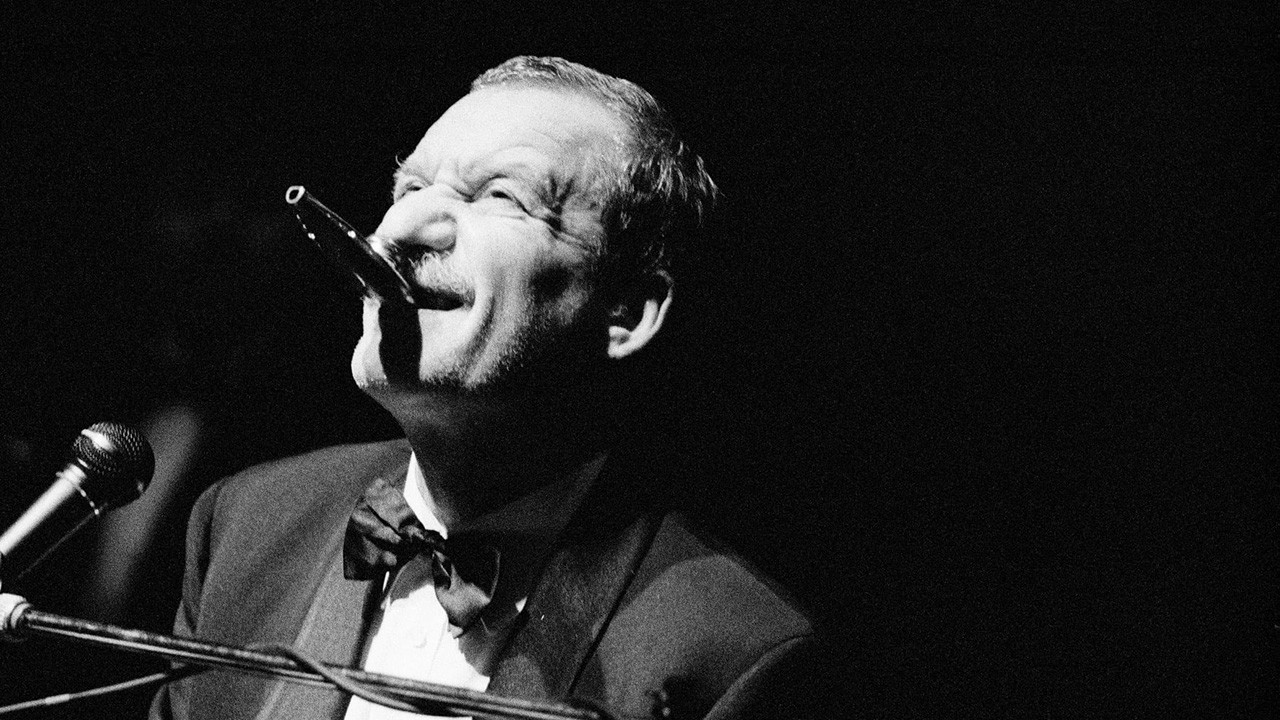 Sarà in sala solo il 28, 29, 30 settembre…