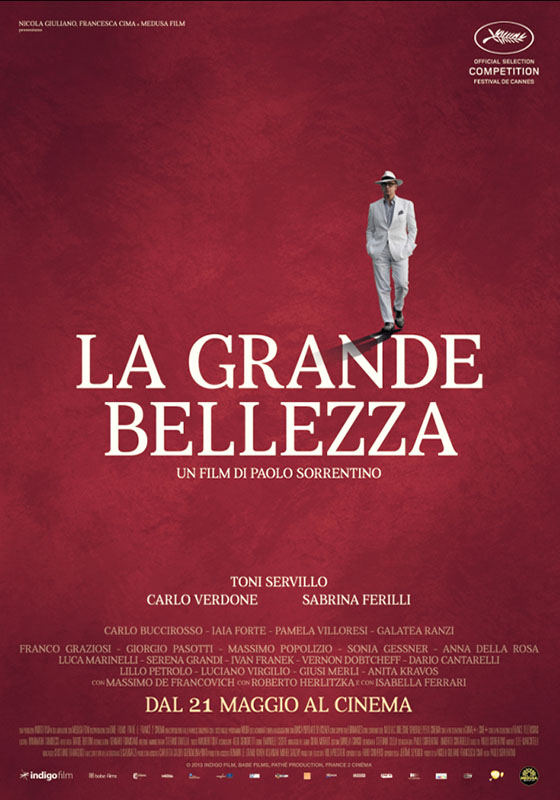 The Great Beauty
by Paolo Sorrentino
Film
Production year

2013

Length

140' min.

Format

DCP/35mm
---
Synopsis
Aristocratic ladies, social climbers, politicians, high-flying criminals, journalists, actors, decadent nobles, prelates, artists and intellectuals – whether authentic or presumed – form the tissue of these flaky relationship, all engulfed in a desperate Babylon which plays out in the antique palaces, immense villas and most beautiful terraces in the city. They are all there, and they are not seen in a good light. Jep Gambardella, 65, indolent and disenchanted, his eyes permanently imbued with gin and tonic, watches this parade of hollow, doomed, powerful yet depressed humanity.
All the effort of life, disguised as specious, distracted entertainment. A dizzying moral atonia.
And behind it, Rome, in summer. Stunningly beautiful and indifferent. Like a dead diva.
---
---
Crew
Director Paolo Sorrentino
Story Paolo Sorrentino
Screenplay Paolo Sorrentino, Umberto Contarello
Cinematography Luca Bigazzi
Editing Cristiano Travaglioli
Music Lele Marchitelli
Production Designer Stefania Cella
Costume Designer Daniela Ciancio
Direct Sound Recordist Emanuele Cecere
Sound Designer Silvia Moraes
Make-Up Maurizio Silvi
Hair Aldo Signoretti
Assistant Director Davide Bertoni
Casting Annamaria Sambucco
Line Producer Viola Prestieri
Associate Producers Carlotta Calori, Guendalina Ponti
Associate Producers Romain Le Grand, Vivien Aslanian, Muriel Sauzay
Producers Nicola Giuliano, Francesca Cima
Co-Producer Fabio Conversi
Co-Producer Jérome Seydoux
A French-Italian Coproduction
Produced by Indigo Film
With the collaboration of Medusa Film
Co-Production Babe Films, Pathé Production, France 2 Cinéma
In association with Banca Popolare di Vicenza
In association withBiscottificio Verona Srl
Developed with the support of The Media Programme of the European Union
With the support of Eurimages
With the contribution of  M.I.B.A.C.T - Direction Générale Cinéma
With the support of the Regione Lazio - Fondo Regionale per il Cinema e l'audiovisivo
With the support of the Roma Lazio Film Commission
With the collaboration of Mediaset Premium
With the partecipation of Canal+ And Ciné+
With the partecipation of France Télevisions
Distribution Medusa Film
International Sales Pathé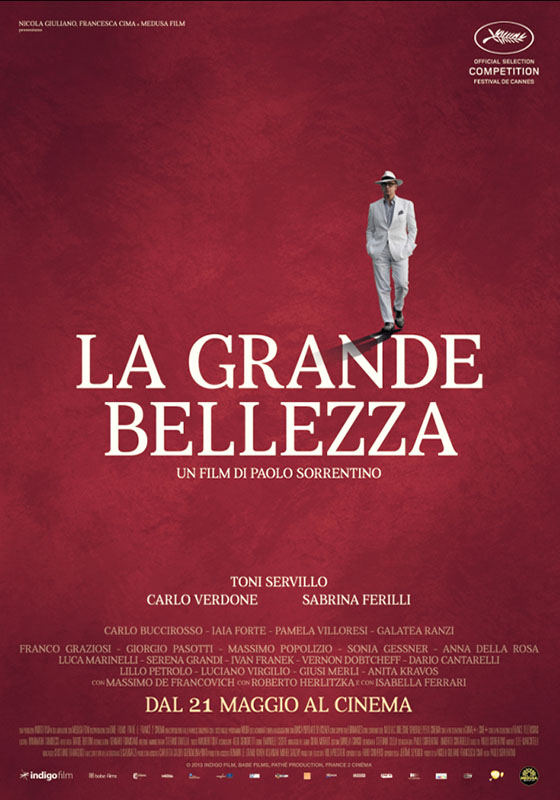 ---
Cast
Toni Servillo
Carlo Verdone
Sabrina Ferilli
Carlo Buccirosso
Iaia Forte
Pamela Villoresi
Galatea Ranzi
Franco Graziosi
Giorgio Pasotti
Massimo Popolizio
Sonia Gessner
Anna Della Rosa
Luca Marinelli
Serena Grandi
Giusi Merli
Giovanna Vignola
Ivan Franek
Vernon Dobtcheff
Dario Cantarelli
Lillo Petrolo
Luciano Virgilio
Anita Kravos
e con Massimo De Francovich
con Roberto Herlitzka
con Isabella Ferrari
---
Awards
Academy Awards
Oscar Best Foreign Film
Bafta Awards
Best Film non in the English Language
Golden Globe Awards
Best Foreign Language Film
Independent Spirit Awards
Nomination Best International Film
Efa - European Film Awards
Best European Film
Best European Actor (Toni Servillo)
Best European Director (Paolo Sorrentino)
Best European Editing (Cristiano Travaglioli)
Nomination European Screenwriter (Paolo Sorrentino, Umberto Contarello)
Lux Prize
Nomination Best Film not in the English Language
Tallin Black Nights Film Festival
Eurasia Grand Prix
Grand Prix de l'union de la Presse Cinématographique Belge (Upcb)
Grand Prix de L'ucc
Capri Hollywood
Capri Visionary Movie Award (Paolo Sorrentino)
Festival de Cinema Italiano No Brasil 2013
Magneti Marelli del Cinema Italiano Award
Sevilla Festival de Cine
Award "Eurimages" Mejor Coproducción Europea
Mejor Actor (Toni Servillo)
Italian Dvd & Blu-Ray Awards
Best Italian Dvd/Blu-Ray
Festival du Cinéma Italien d'Ajaccio
Mention Spéciale (Toni Servillo)
Nastri d'Argento
Special Mention (Toni Servillo)
Best Supporting Actor (Carlo Verdone)
Best Supporting Actress (Sabrina Ferilli)
Best Photography (Luca Bigazzi)
Best Direct Sound Recording (Emanuele Cecere)
Trailers Film Fest
Best Advertising Campaign Of The Year
Globi d'Oro
Best Photography (Luca Bigazzi)
Premio Kineo "Diamanti al Cinema Italiano"
Kineo Award "Diamanti al Cinema" (Sabrina Ferilli)
---
Festivals
66 Festival International du Film de Cannes
München Film Festival
Karlovy Vary International Film Festival
Una Notte in Italia – Festival del Cinema di Tavolara
Odessa International Film Festival
New Zealand International Film Festival
Aiace Summer Edition
Haugesund International Film Festival
Vancouver International Film Festival
Toronto International Film Festival
Offf – Otranto Film Fund Festival
Haifa International Film Festival
Filmfestival Oostende
Film by the Sea International Film Festival
Athens International Film Festival
Lavazza Italian Film Festival
International Film Festival Mumbai
Festival Nouveau Cinema Montreal
Festival du Film Italien de Villerupt
Festival du Cinéma Italien d'Ajaccio
Cinéalma – Festival Transméditerranée
Italia Cinema
Tallin Black Nights Film Festival
Starz Denver Film Festival
St. Louis International Film Festival
Sevilla Festival de Cine
Rencontres du Cinéma Italien de Grenoble
Noordelijnk Film Festival
Nice – New Italian Cinema Events
Mittelcinemafest
Minsk International Film Festival
Ljubljana International Film Festival
Kolkata International Film Festival
Italian Film Festival Vancouver
International Film Festival of India
Festival de Cinema Italiano no Brasil
Festival de Cine Italiano de Madrid
Cinema Italian Style
Afi Los Angeles International Film Festival
Tbilisi International Film Festival
Sguardi Puri
Semana de Cine Europeo
Moviemov - Italian Film Festival Manila
Italia Film Festival Malta
International Film Festival of Kerala
Dubai International Film Festival
Chennai International Film Festival
Capri Hollywood
Asti Film Festival
Pune International Film Festival
Palm Springs International Film Festival – Psiff
Küstendorf Film and Music Festival
Göteborg Film Festival
Univerciné Cinéma Italien
Los Angeles, Italia, Film, Fashion and Art Festival
Italian Identities. Il Cinema racconta gli Italiani
Festival du Cinéma Italien de Bastia
Belgrade International Film Festival
Sofia International Film Festival
La Grande Bellezza del Cinema Italiano. Roma-Hollywood Aspettando la notte delle Stelle
Festivalul International de Film Bucuresti
Festival Internacional de Cine Y T.V. de Cartagena
Baff - Busto Arsizio Film Festival
Hors Les Murs Terra di Cinema
Cinéma Italien à Voiron
Bif&St – Bari International Film&Tv Festival
Nice Russia
Festiwal Filmowy Wiosna Filmow Warszawskim
Festival del Cinema Italiano di Tokyo
---
Photo Gallery
Indigo
News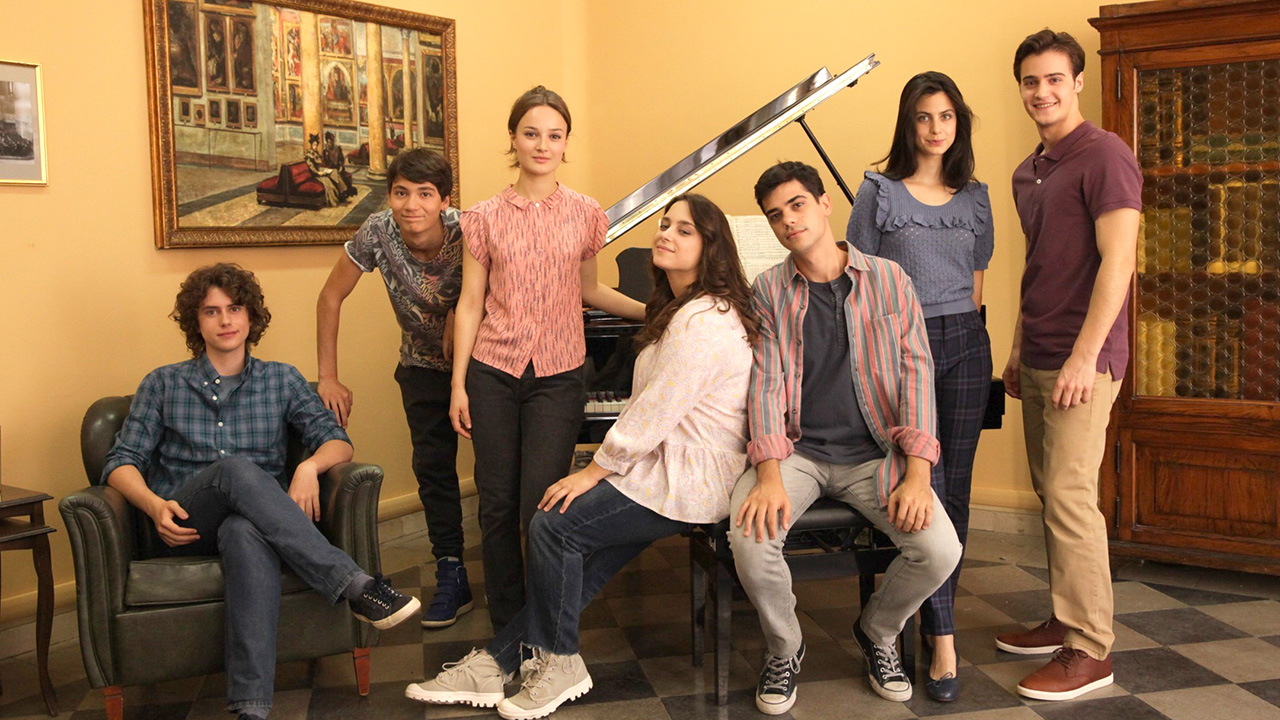 Sono in corso le riprese della seconda stagione della…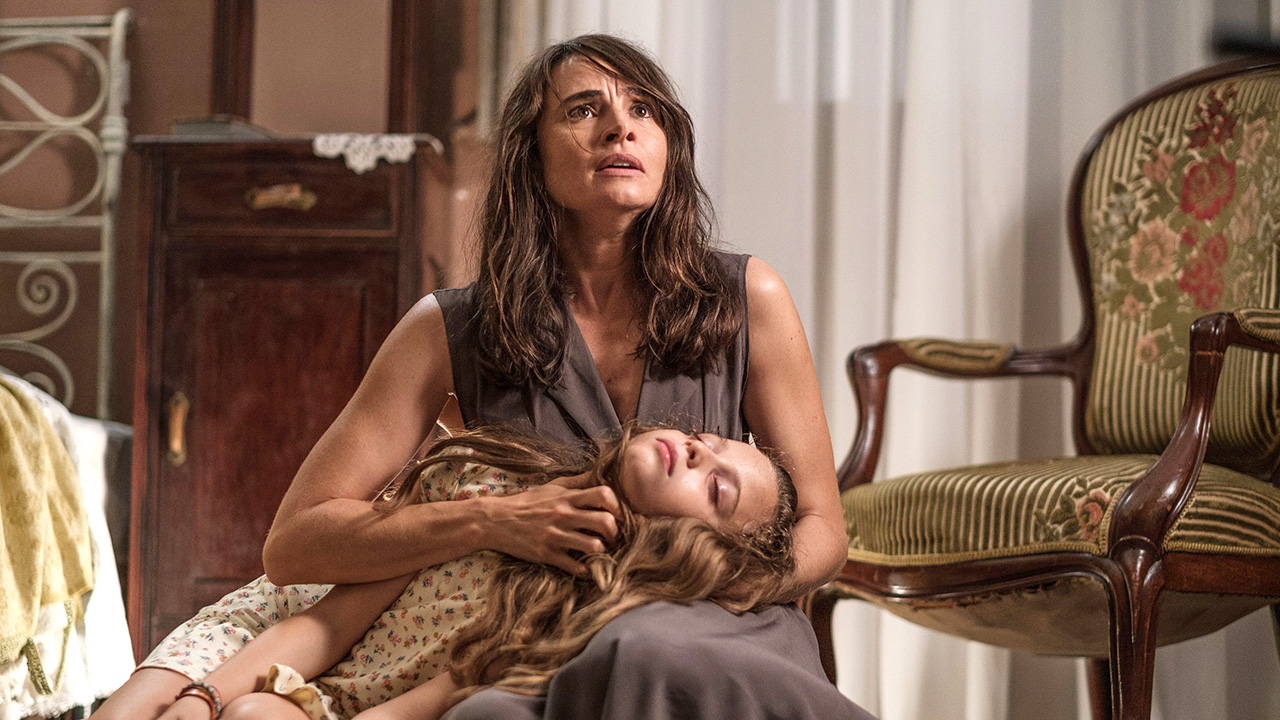 Dal 2 ottobre su Netflix sarà disponibile IL LEGAME,…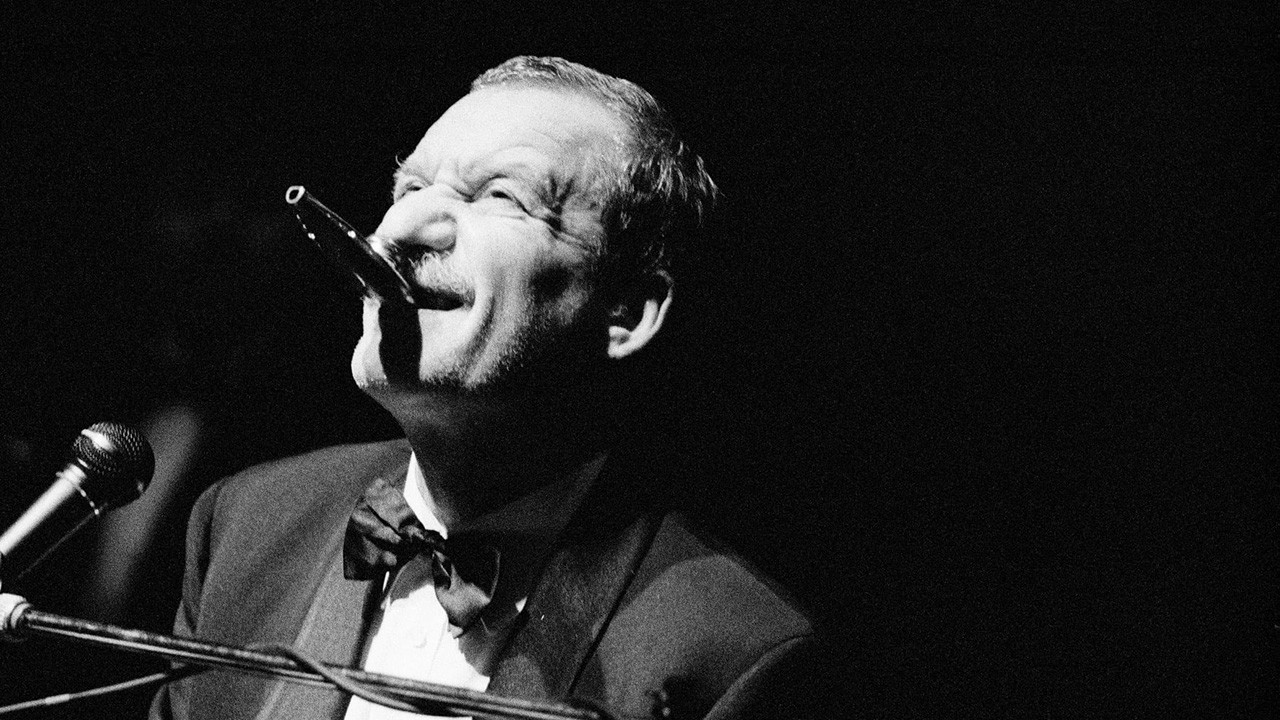 Sarà in sala solo il 28, 29, 30 settembre…